Weekly Meal Plan #2: Vegetable Sides gives us 5 ideas for eating vegetables this week! Steamed veggies can get old, but these recipes give us new life and make us want to eat our veggies.
Our mom and grandma were right when they told us to eat our vegetables.
Unfortunately, overcooked and mushy vegetables just don't have that appeal that makes us want to eat more of them. But with these 5 recipes, we'll be begging for more vegetables.
When we're living the FitLife, veggies are key because of all the nutrients they provide but also because we can eat quite a bit of them daily and still reach our fitness goals.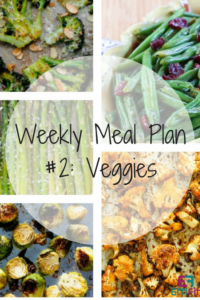 What's a vegetable serving, and how much should we have a day?
A simple way to measure a serving is to make a fist with your hand. That's a serving size. For women, we want at least 1 fist per meal. For the guys, it's at least 2 fists. Simple and easy to remember thanks to Precision Nutrition! Another way to look at it is to make half your plate vegetables. That's a goal to strive for and not something to start with on day one. So go ahead and get a fist or 2 of veggies at most dinners this week. Then you can work up to lunch and breakfast as it feels more and more like a habit.
Weekly Meal Plan #2: Vegetable Sides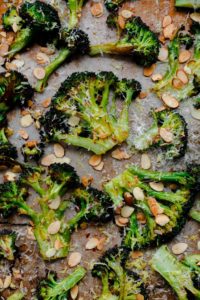 Crack broccoli by A beautiful plate
Broccoli is my #1 fave vegetable, I've loved it since I was a kid. Roasting veggies is a great way to eat them and taste more of the flavors. If you're allergic to nuts like I am, skip the nuts.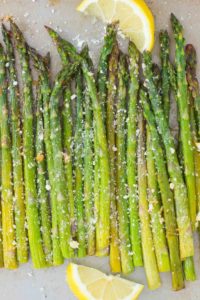 Roasted lemon Parmesan asparagus by Pumpkin 'N Spice
All I can say is yum! Pair this with some fish (like salmon), and enjoy it! I also really love asparagus and roasted is my favorite way to eat them.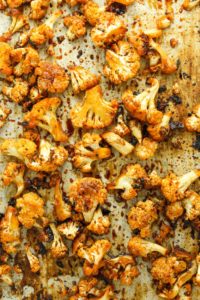 Sweet and spicy baked cauliflower by The Fitchen
Seriously, what can't cauliflower do? This is a fun and exciting way to start incorporating it into your diet or to try it a different way.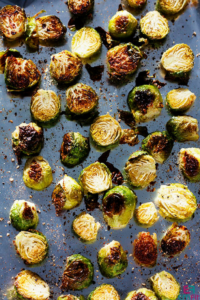 Garlic roasted brussel sprouts by yours truly
Noticing a trend on my love for roasted vegetables? Seriously, roasting vegetables has been a game changer for me. And these brussels sprouts and pure heaven. 🙂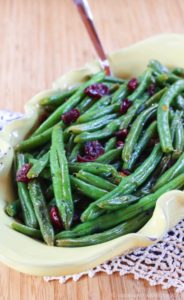 Cranberry orange glazed green beans by Cupcakes and Kale Chips
I love this combination of fruits and veggies. Enjoy this at home or take them to Christmas dinner!
I'm getting ready to launch a FREE 2 Week Get Fit Again Jumpstart Challenge! There'll be quick workouts you can do at home or the gym and nutrition knowledge-bomb dropping! Registration page coming soon!!!
Life getting in the way of your fit goals?
Get the FREE 5 Day Guilt Free Guide to Getting Healthy. In it, I'll show you simple eating strategies and quick exercises that fit your busy schedule without feeling stressed, overwhelmed, or disappointed.