Weekly Meal Plan #5: Breakfast is 5 healthy and delicious breakfast ideas for you to enjoy. These aren't you're boring cereal and milk or plain oatmeal. These are fun, easy to prep, and can last you for the week. Make one or make a couple, but pin this for later so you can enjoy them all!
Breakfast, when you're flying out the door at 100 mph can be a real challenge.
it's often skipped when our schedules are super crazy. But with a little prep, breakfast can be part of your daily routine. Even if it's just a couple days a week.
Breakfast is an important meal because eating is important, especially when we're living the FitLife. There's no skipping lots of meals here. Okay, lets be honest, we all really love food and we all really love to eat. So why deprive ourselves from something so enjoyable in the name of some perfect body type that doesn't exist.
The key here is to eat foods that nourish your body more than the foods that don't do as well at achieving that. For this, I'm a big fan of 80-20. 80% of my food nourishes my body, 20% might nourish my soul more than my body. But that's not to say that healthy and nourishing food can't also nourish the soul. I think we can both agree that ice cream and cookies (my 2 fave sweet indulges) nourish the soul more than the body.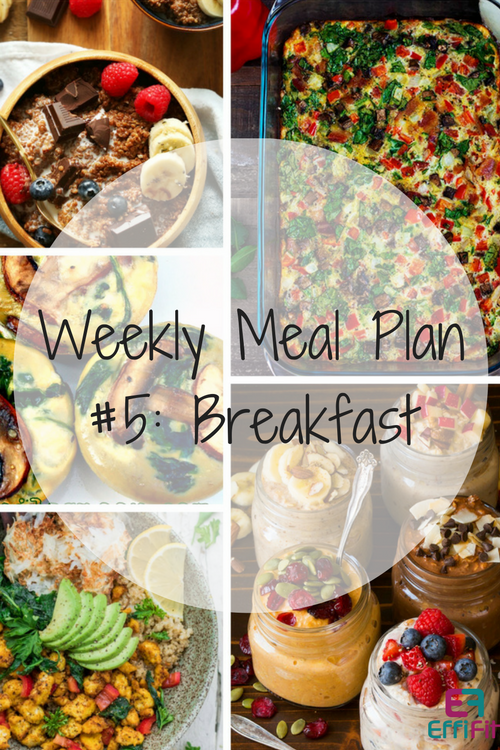 Here are 5 breakfasts to nourish our bodies and our souls.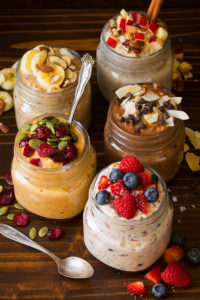 Overnight Oats Five Ways by Cooking Classy
I love overnight oats because you can set it and forget it. Then walk out the house with breakfast in tow. You can eat them cold or warm them up. Even though oats are a smart carb, I would suggest eating these after a morning workout when your body uses carbs better (if you're more advanced in your nutrition). Otherwise, kudos to getting into the habit of eating a nutritious breakfast.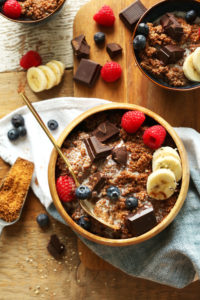 Dark Chocolate Quinoa Breakfast Bowl by Minimalist Baker
Chocolate for breakfast?! Hell yeah, when it's dark chocolate! So I really love this one because quinoa has quite a bit of protein. Add in some healthy fats, and we're in business. Yum!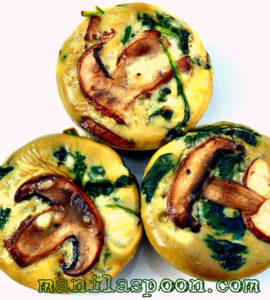 Spinach Quiche Cups by Manila Spoon
I'm a big fan of these egg cups/muffins because they're easy to take on-the-go. Plus we get a solid serving of protein and veggies which is always a winning combo and a great place to start when prepping meals.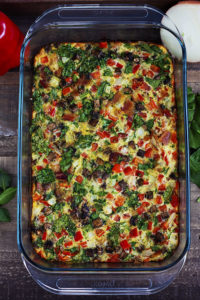 Bacon, Egg, and Veggie Breakfast Casserole by yours truly
Or you can make a casserole with eggs, bacon, and tons and tons of veggies. Easy to take with you also. And a very well balanced meal to start your day.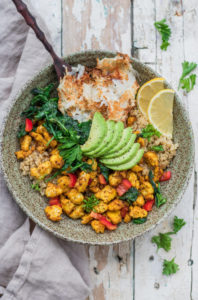 Farmers Market Vegan Breakfast Bowl by Choosing Chia
And to end this weekly meal plan, how about a vegan breakfast bowl. You don't have to be vegan to eat vegan. Give this one a try and see how you can add more veggies to your upcoming meal plans. PS you can get a LUCC method workout in while this baby bakes.
Which one are you going to try this week? Don't forget to Pin it for later, and let me know which one you're trying first in the comments.
Life getting in the way of your fit goals?
Get the FREE 5 Day Guilt Free Guide to Getting Healthy. In it, I'll show you simple eating strategies and quick exercises that fit your busy schedule without feeling stressed, overwhelmed, or disappointed.