Slow Cooker Green Chile Shredded Chicken is flavorful and healthy protein option that can be served on tacos, on a salad, or in a rice bowl.
*This post contains affiliate links. I earn a small commission for links to any products or services from this website. Your purchase helps support my work in bringing you real information about living the FitLife with a busy schedule.
The protein we eat can be one of the parts of our meal that takes the longest to cook.
When it's already made, all we have to do is add some veggies and smart carbs and a meal is ready to go. Often times, how long it'll take to have a meal ready is what stops us from making a better food choice. And with it officially being football season, I find myself in this boat too.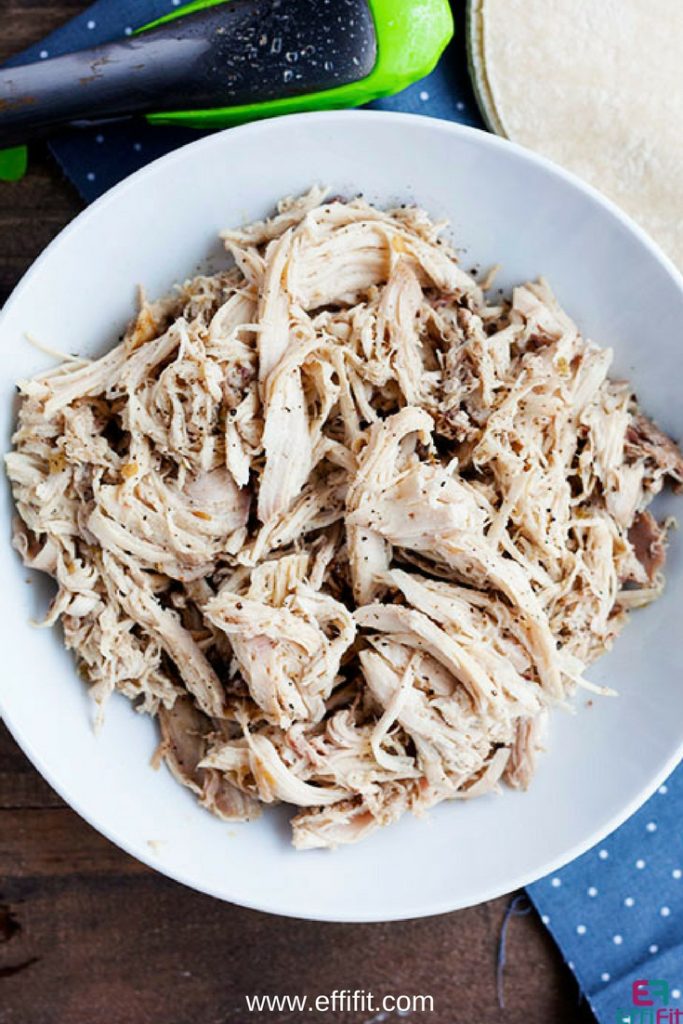 The Instant Pot doubles as a slow cooker and is a lifesaver when you have a busy schedule. With Instant Pot as a pressure cooker, you can cook meats, rice, and vegetables in a short amount of time. Chicken done in less than 15 minutes, brown rice in 22 minutes, and vegetables in minutes. It's a great way to save time but still eat well. The slow cooker feature is also a great bonus. You can get rid of your crock pot and give yourself more space in your kitchen. Grab the Instant Pot slow cooker top and be all official.
What I like about cooking in the slow cooker is that you can set it and forget it. Cook a meal overnight while you sleep or set it in the morning and have dinner ready when you get home. Prep time for slow cooker meals is minimal. Just dump all the ingredients in there! If you like tender meats that fall off the bone and shred easily, you'll find a benefit to using that slow cooker more. The slow cooker and pressure cooking is like having a cook in your home!
Slow Cooker Green Chile Shredded Chicken
Once you've got your protein cooked up, you'll be ready to go to get meals on the table fast. This green chile shredded chicken has so many uses. I made it for a girl's night, cooked up some onions and peppers and we ate it as fajitas. You can use the meat to prep all your lunches for the week or as part of a couple dinners. Make fajitas, tacos, a rice bowl, or even a salad. The options are endless and the flavor is amazing. Grab a whole chicken or a bunch of chicken breasts from the grocery store and make this this week!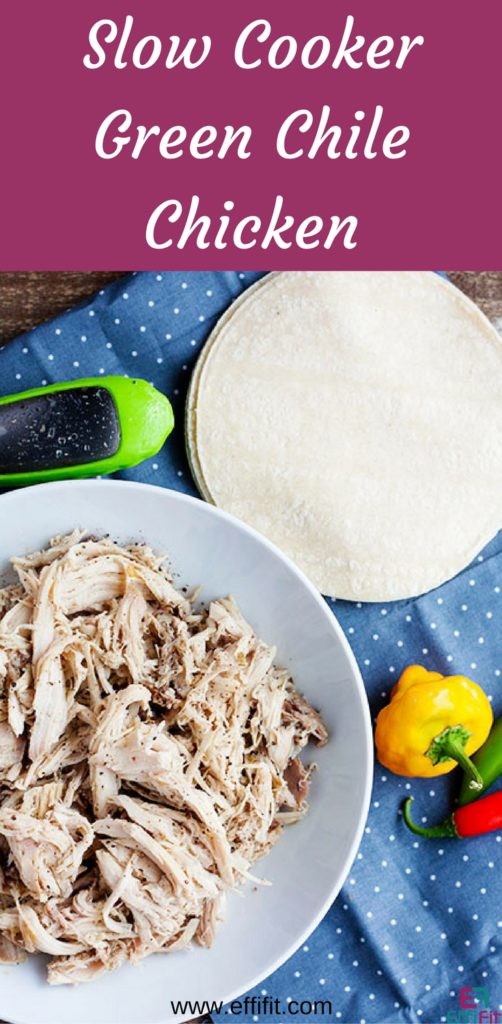 Slow Cooker Green Chile Shredded Chicken
Prep time:
Cook time:
Total time:
Ingredients
1 whole chicken or 6 chicken breasts
1- 4oz can green chile
1 tablespoon of the following: salt, pepper, onion powder, garlic powder, cumin, plus more to season up after the chicken is cooked
Instructions
In your slow cooker or Instant Pot, add the chicken, green chile, and spices.
Cover.
Place Instant Pot on the slow cooker option and select the low cooking setting.
Cook chicken on low for 7 hours.
Once the chicken is down cooking, remove from the Instant Pot and shredded.
Add additional seasonings to flavor to your taste.
Add back to the Instant Pot to keep warm.
Sere in fajitas, over a salad, in enchiladas, in a rice bowl, how you please.
Until next time! -Atim
Where I'm linked up:
Inspire Me Monday | Inspire Me Monday | Totally Terrific Tuesday | Coffee and Conversation | Inspire Me Wednesday | Wild Workout Wednesday & Fit and Fashionable Friday | Healthy Living Link Party | Think Tank Thursday | This is How We Roll
*EffiFit LLC is a participant in the Amazon Services LLC Associates Program, an affiliate advertising program designed to provide a means for sites to earn advertising fees by advertising and linking to amazon.com.