Sheet pan beef and broccoli is a quick and healthier version of a takeout favorite with all the flavor you love.
Healthy eating doesn't have to be boring and uneventful. In fact it can be just as flavorful and delicious as your favorite comfort foods.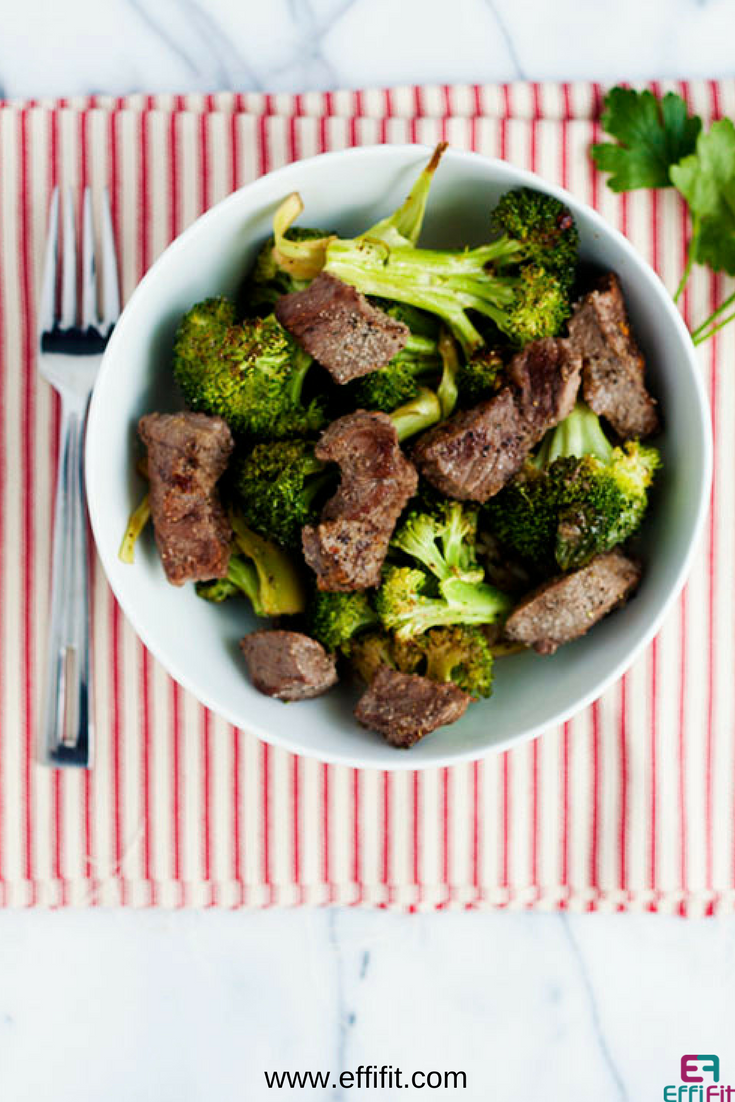 Eating well is key to getting fit, losing weight, and being healthy. My goal with these recipes is to show you how to make quick healthy meals that allow you to reach you're goals. I'll be showing you how to have delicious and enjoyable meals and not feel like you have to deprive yourself to be healthy. Deprivation isn't sustainable long term as I'm sure you're aware. Often just a few minor swaps is all you need for a more nutritious meal.
Beef and broccoli is delicious and often a favorite.
When I was younger, this was the only thing I would order from Chinese restaurants. I also had an intense love for broccoli. I still do but have diversified my vegetable palate (roasted brussel sprouts anyone).
When you make your own beef and broccoli, you get to decide how much salt you want, if you want it a bit spicy, and how much meat and broccoli. You truly win. And with sheet pan cooking, this will be done in 20 minutes with minimal time from you. You can get a quick workout in while it's cooking! Sheet pan dinners are a great way to get food on the table fast and can often be healthy too!
Add this to the menu this week and enjoy a restaurant quality meal at home.

Sheet Pan Beef and Broccoli
Prep time:
Cook time:
Total time:
Ingredients
1 lb stew beef chopped
1 lb broccoli chopped
¼ cup reduced sodium soy sauce
2 tbs water
1 tbs honey
1 tbs olive oil
2 tbs onion and garlic powder
Salt and pepper
1 tsp corn starch or thickening agent of choice
Instructions
Preheat oven to 400°F
Cover a large sheet pan with foil.
Add meat and dried chopped broccoli to the pan.
Season with salt, pepper, garlic and onion powder.
In a small bowl mix together soy sauce, water, onion and garlic powder, and corn starch.
Pour ⅔ of the sauce over beef and broccoli .
Bake in the oven for 15 minutes.
Pour remaining sauce on top.
Serve on its own or over a bed of brown rice.
Until next time! -Atim
Where I'm linked up:
Inspire Me Monday | Inspire Me Monday | Totally Terrific Tuesday | Coffee and Conversation | Inspire Me Wednesday | Wild Workout Wednesday & Fit and Fashionable Friday | Healthy Living Link Party | Think Tank Thursday | This is How We Roll