Weekly Meal Plan #9: Vegetarian Dinners includes 5 quick, veggie filled meals for any or all of your meatless dinner days.
*This post contains affiliate links. I earn a small commission from purchases through links to any products or services from this website. Your purchase helps support my work in bringing you real information about living the FitLife with a busy schedule.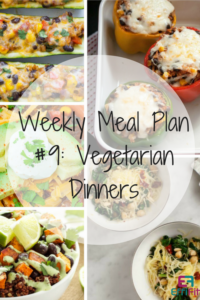 Vegetarian dinners are awesome for mixing up your eating routine.
It's easy to eat a lot of the same stuff over and over, but why not try some different things? Whether you participate in meatless Monday, eating more vegetables is beneficial to your FitLife.
I'm not saying you should never eat meat (it's a great source of protein), but having some more vegetarian dinners in your life is going to have many benefits. Some of these include: getting more fiber in your diet and reducing disease risk.
Let's flex those flexitarian muscles with a few more vegetarian dinners in our lives.
Here's are 5 vegetarian dinners for the week!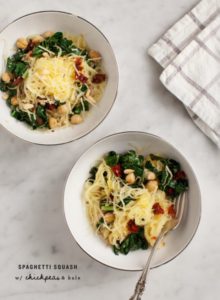 Spaghetti squash with chickpeas and kale by Love and Lemons
I'm a big spaghetti squash fan. I definitely overdid in the past and haven't had any in about a year. But I think it's time to bring it back. This recipe is a simple one, but does require time to make the spaghetti squash. To speed the time up, either roast the squash ahead of time, cook it in the microwave, or the pressure cooker in 7 minutes!
Get your own Instant Pot here!
Mexican-Style Vegetarian Stuffed Peppers by Crumb
I love stuffed peppers! They are damn delicious and nutritious (tehe). in fact, bell peppers have more vitamin C than oranges! With this one, feel free to skip the corn and add another veggie like mushrooms to the mix. If needed, you can also skip the cheese, but why would you do that?!
Healthy Vegetarian Quinoa Chili by peas & crayons
I looove chili. Beans are a great source of protein, and so is quinoa. As you know, we women don't get enough protein for general body functioning, let alone to live the FitLife. This is hearty chili, you'll hardly miss the meat. Plus it makes quite a bit meaning leftovers for lunches!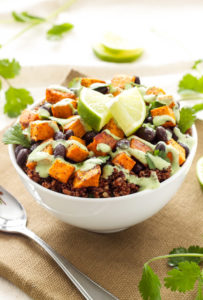 Sweet Potato and Black Bean Quinoa Bowls by Spoonful of Flavor
This meal is a great mix of protein and smart carbs and is quick and easy to make. Speed up the process some by buying the already cut and diced sweet potato. Sometimes we just don't have time to peel and cut up potatoes when we're starving after work.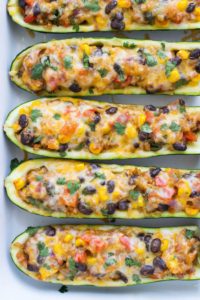 Mexican Zucchini Burrito Boats by Making Thyme for Health
This one takes more time to prepare so add it to your meal prep day OR get your workout on while you wait! Zucchini boats are fun and versatile.
Which one will you make this week? Don't forget to pin this for later!
Life getting in the way of your fit goals?
Get the FREE 5 Day Guilt Free Guide to Getting Healthy. In it, I'll show you simple eating strategies and quick exercises that fit your busy schedule without feeling stressed, overwhelmed, or disappointed.
*EffiFit LLC is a participant in the Amazon Services LLC Associates Program, an affiliate advertising program designed to provide a means for sites to earn advertising fees by advertising and linking to amazon.com.