Did you have a good week? Overall, mine was pretty great. Most of the week I felt like a chicken with my head cut off but for good reason.
The Fall Into Fitness Sugar Free Challenge came to an end, and I'm really sad about it. But man, those ladies did a-m-a-z-i-n-g! I had not doubt, but they did and in great form. These ladies are career women, just like you, that don't often have a lot of time to focus on their health. But they sure did. And have intentions to continue. When we focused on just a couple things, eating less sugar and moving our bodies more, it felt more doable than trying to do it all at once. Perfect for a busy life when you already feel you have to do everything, and perfectly too.
Here's what a few of the ladies had to say about the challenge when it was all said and done.
" The biggest change I've realized is I have a lot more self-control than I thought! I don't need to eat sugary treats just because they're there. Going off sugar has also helped me stop telling myself I can have a 'treat' as in a cookie or brownie if I eat healthy through out the day. I hated thinking of food as 'treats' but I did. I've sort of lost that mindset now"
And this:
" Actually, my biggest aha is that small goals and going one step at a time is maybe best 🙂. I tend to be an all or nothing kind of person and I try to accomplish 67 things at once."
My heart is full. I can't be happier. Luckily for them and for you, I'm keeping the group open and working with these career women to help them get fit again in a way that works for their definition of health and fitness and their crazy schedules. I would love to have you. So go ahead and join Busy Professionals Getting Fit today!
Here's what we had go on this week.
An epic total body HIIT workout, done in 15 minutes!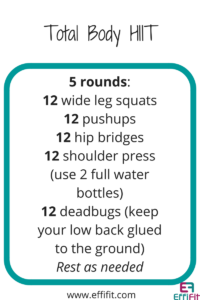 Some yummy slow cooker pulled pork. Perfect for football parties and the fall weather. I had enough for a couple dinners and lunches for the entire week.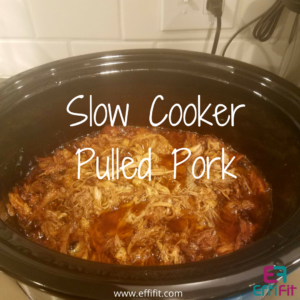 Oh and, I talked a bit about boundaries vs. restrictions in your fit journey. This is a great read, I even share my own past and recent experiences.
And lastly, I made a couple announcements about the new Career 2 Fit Again Program. More information will be coming soon, but check out Facebook or Instagram in the mean time.
Life getting in the way of your fit goals?
Get the FREE 5 Day Guilt Free Guide to Getting Healthy. In it, I'll show you simple eating strategies and quick exercises that fit your busy schedule without feeling stressed, overwhelmed, or disappointed.