Fitness Musts for Living Healthy
Treat yo' self or the fitness lover in your life with these fitness must-haves for the living the FitLife with a busy schedule.
*This post contains affiliate links. I earn a small commission from purchases through links to any products or services from this website. Your purchase helps support my work in bringing you real information about living the FitLife with a busy schedule.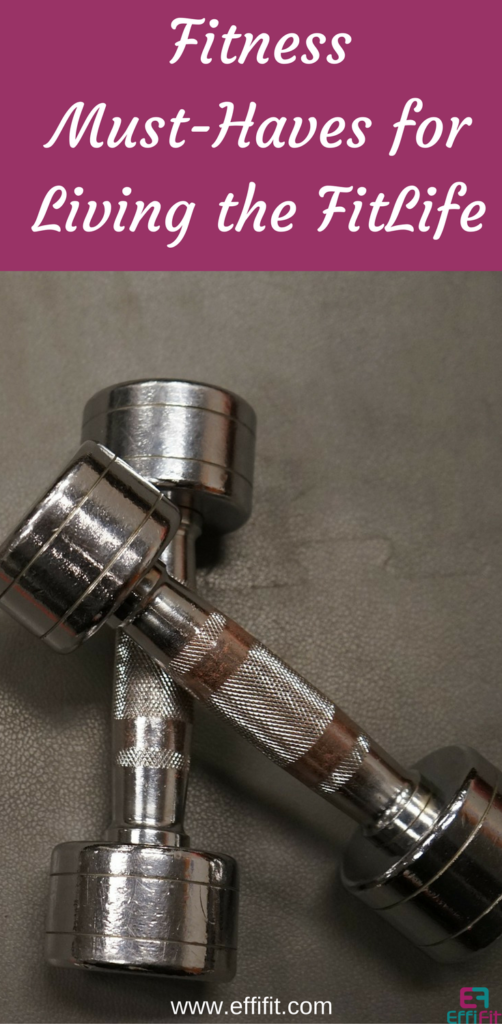 It's easy to use time as an excuse to not take care of yourself.
BUT I have 5 must-haves to help you overcome that and get your health and fitness on, no matter your schedule! These are all things that I've personally used in my own fitness journey. See, I used to be a strictly workout at the gym only type of person. I didn't think I could get the same workout if I worked out at home.
And even recently, I thought I could only get results if I only did Crossfit (which I love). But what I found out is consistency is the most important thing. In the past, I'd workout once or twice a week every couple weeks and then get pissed I wasn't getting anywhere. It clicked that I need to workout once or twice, maybe even three or four times a week every week to start getting results.
My schedule varies so much now.
Currently, I'm mainly working out at home. Most weeks I get 3 workouts in, but sometimes I'm only able to walk my dog. I knew I couldn't rely on the gym solely to live the FitLife. I've learned to enjoy working out at home as it gives me a lot of flexibility with my workouts. Some days, I get them in in the mornings, and other days it's after work. Now to just get myself to not half-ass so many workouts. 🙂
Here are 5 things I use to keep me on my FitLife journey.
Champion sports bras

Hands down, these are the best sports bras I've had. They are tight and keep their form. I've had a handful for a few years now that have supported me thought many a Crossfit workout and LUCC workouts. You don't have to break the bank for a nice sports bra. They have so many options and fun colors. My photos and videos all feature a Champion sports bra. I really love them.
Adjustable dumbbells

I use these at home for many of my at home workouts. I like to add weights to some of the equipment-less workouts for some added intensity. Strength training is an important part of my fitness. It builds strength, confidence, and helps to lose fat mass and gain more fat free mass (muscles) which is beneficial to your health and well-being (read – reducing your risk of diseases).
Fitness/yoga mat

When I do yoga or certain lying exercises, I like to use a mat. I'll use a mat for stretching, especially when I'm stretching my hip flexors or lower back. When I do my summer bootcamps, I'll take this with me because I don't like to lay in the grass. And it's nice to have your own mat if your attend a yoga class.
Exercise resistance loop bands

Resistance bands are great to take when traveling. You can still get your strength training in without having to pack a lot of equipment. And if you have weak glutes, like I do, these are great to help strengthen them which then improves my squat, running, and makes my pants fit worse (lol, someone please make pants for the booty).
Foam roller

When done right, foam rollers can help improve the mobility of your fascia (which is the connective tissue that surrounds your muscles). I like this one specifically because of the trigger point areas and different surfaces. I use this one at the gym, but will be buying one for my home soon!
Bonus Goodie!
Kettlebells: I'm about to buy one but use them at the gym! They offer a lot of fun and variety to your workouts.
Now get out there and get your fitness on!
Until next time! -Atim
Where I'm linked up:
 Totally Terrific Tuesday | Wild Workout Wednesday & Fit and Fashionable Friday | Healthy Living Link Party | This is How We Roll
*EffiFit LLC is a participant in the Amazon Services LLC Associates Program, an affiliate advertising program designed to provide a means for sites to earn advertising fees by advertising and linking to amazon.com.