Spicy Sausage, Super Greens, Rice and Beans Soup
This soup is a little taste of heaven on Earth. With this soup, you get a well-balanced meal of protein, veggies, healthy fats, and smart carbs, plus flavor explosions with every bite.
*This post contains affiliate links. I earn earn a small commission from purchases through links to any products or services from this website. Your purchase helps support my work in bringing you real information about living the FitLife with a busy schedule.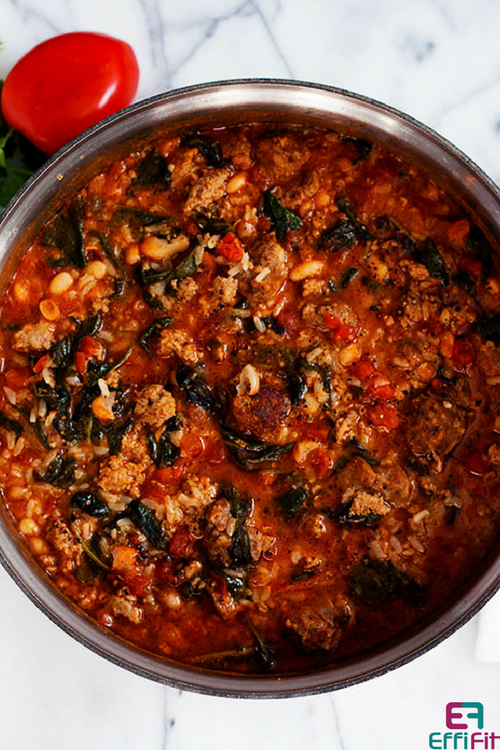 Soup in the winter makes winter more manageable.
I'll eat soup any time of year really, but during winter, I want to eat it much more often. I make it at least a handful of times during winter and a few times in spring for good measure.
Spicy sausage soup ingredients
Spicy sausage: I love spicy foods for one, and I really love spicy sausage. Often when living the FitLife we eat a lot of chicken. I like to switch my protein up from time to time and don't feel bad about eating a fattier meat. You can always swap for chicken sausage if needed.
Super greens: Have you ever had greens in a soup, it's amazing. You have to put a lot in there to really make it worth it though. Just a handful on greens won't do you any good. The greens are a great way to get veggies in but also all the nutrients that come with them.
Brown rice: A nice smart carb option. If possible, buy the full on stuff, not the instant. I use my Instant Pot to make brown rice, wild rice, and quinoa super fast.
White beans: A great smart carb and high in protein!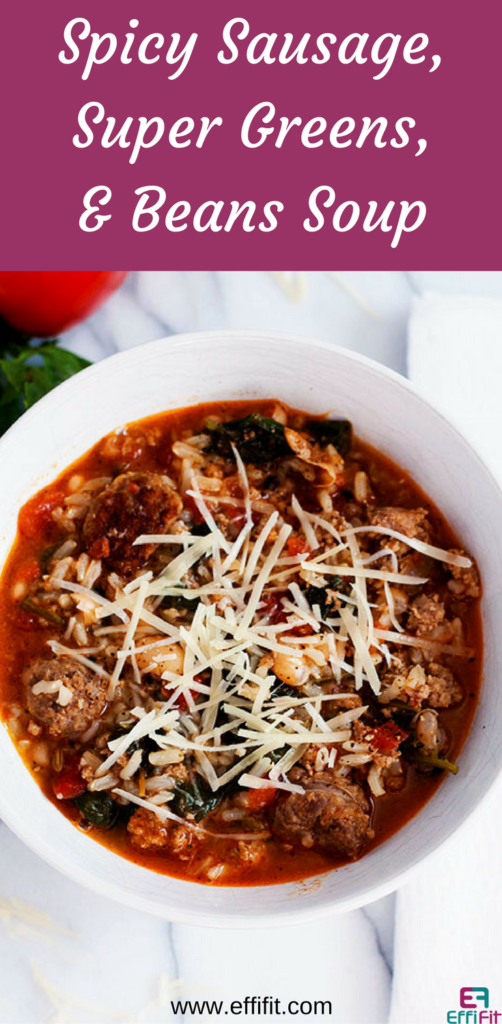 Spicy Sausage and Beans Soup
Spicy Sausage, Super Greens, Rice and Beans Soup
Prep time:
Cook time:
Total time:
Ingredients
15 oz spicy sausage links
1 lb 95% lean turkey sausage
14.5 oz diced tomatoes with green chilies
15 oz Great Northern Beans rinsed and drained
5 oz container of super greens, spinach, or kale
32 oz low sodium chicken broth
2.5 cups cooked rice
Salt and pepper
Instructions
Cut up the sausage links into bite size pieces and add them to a large pot on medium heat.
Let their oil come out, then add the ground turkey.
Cook until both meats are cooked through.
Drain the fat.
Add the diced tomatoes, don't drain.
Next, add the beans to the pot.
Then, add greens and combine all ingredients.
Finally, add the chicken broth.
Let simmer for 5 minutes.
Add rice.
Combine.
Season to taste with salt and pepper.
Eat!
You can top it with some fresh Parmesan and cilantro.
Until next time! -Atim
Where I'm linked up:
 Totally Terrific Tuesday | Wild Workout Wednesday & Fit and Fashionable Friday | Healthy Living Link Party | This is How We Roll
*EffiFit LLC is a participant in the Amazon Services LLC Associates Program, an affiliate advertising program designed to provide a means for sites to earn advertising fees by advertising and linking to amazon.com.