Mango Chickpea Salad with Feta Cheese is a flavorful, protein-packed vegetarian salad.
If you haven't had mango yet this year, you need to get on it.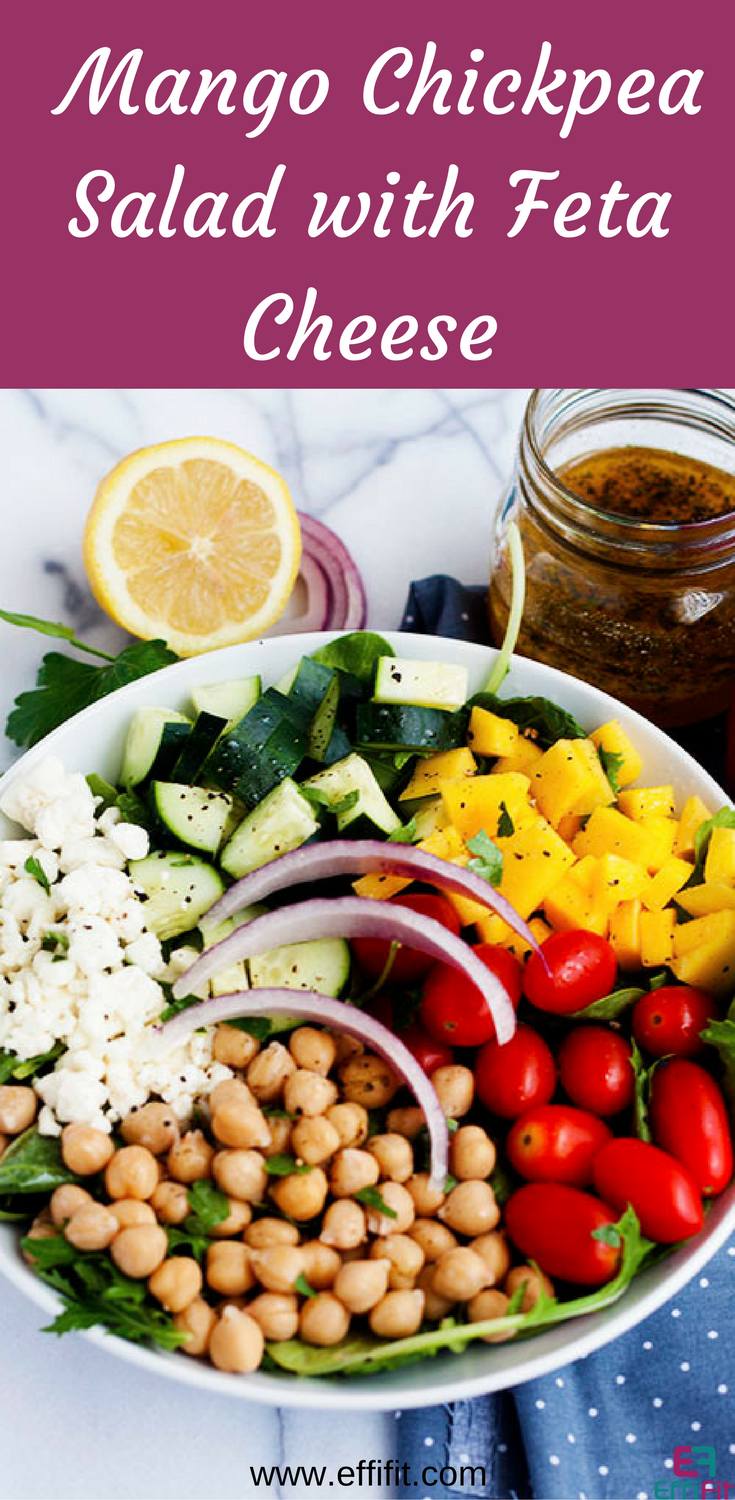 Mango deserves more love than it gets currently. So here's another mango recipe for you. And bonus points for all the protein and vegetables in this salad. I do try and get in more vegetables and cut down just a bit on my meat intake. I'm not anti-meat but I am pro more vegetables. Nearly all my meals (99%) have meat in them. I'd like to see that be most of my meals (80%). I'm working to incorporate more plant-based protein into my meals. Beans are great for this.
As I've said before, I'm a big salad fan (mostly in the summer time). I'm a big fan of salads that have all the goods: protein, different vegetables, smart carbs and healthy fats. A salad with all that is more likely to keep you full than an iceberg lettuce salad with a couple tomatoes. It's time to step our salad game up and get more bang for our salad buck.
Mango Chickpea Salad with Feta Cheese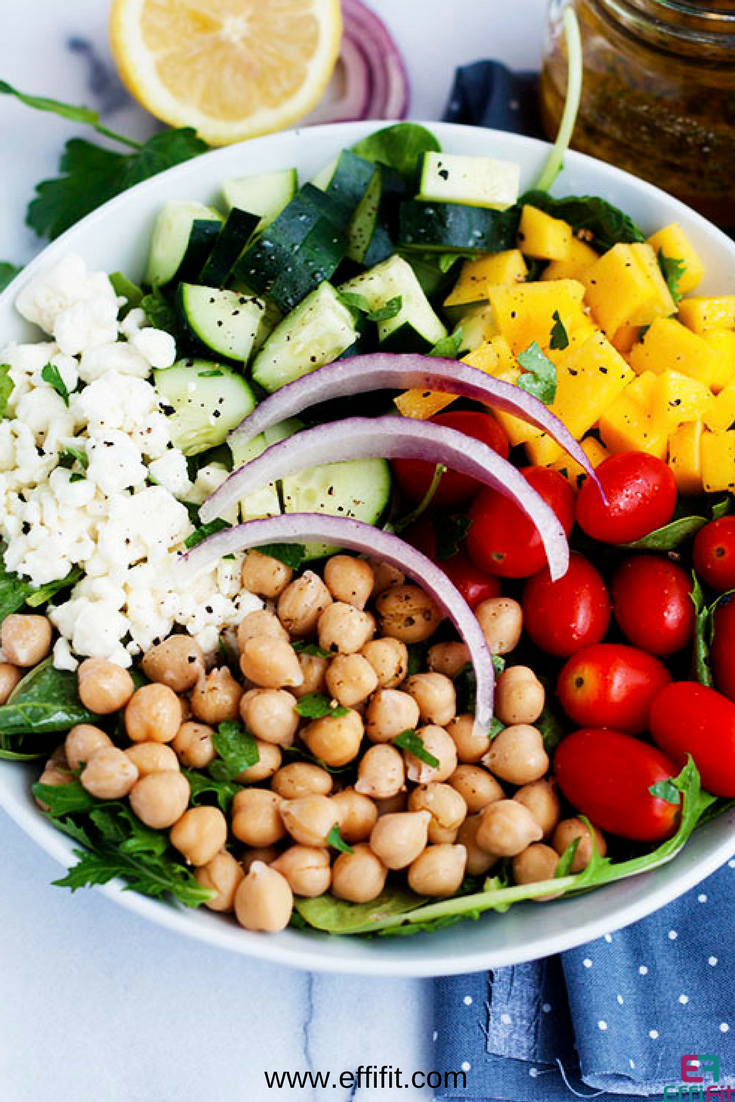 In this salad you get your protein, vegetables, smart carbs, and healthy fats for a well balanced meal. You get your protein from the chickpeas and feta mainly. However, vegetables have protein in them too, just not as much as meat, dairy, and beans. Next you get a serious helping of vegetables from the greens, tomatoes, and cucumbers. Then you get healthy fats from the feta cheese and the olive oil in the dressing. And finally you get your smart carbs from the chickpeas (which are both carbs and protein) and mango.
Put this delicious yet unique salad on your meal plan. You'll love it.

Mango Chickpea Salad with Feta Cheese
Prep time:
Cook time:
Total time:
Ingredients
1 container power greens
1 can chickpeas
1 container grape tomatoes
1 cucumber cut in quarters
1 small container feta cheese crumbles
1 mango chopped
The dressing:
½ cup apple cider vinegar
¼ cup extra virgin olive oil
Juice of half a lemon
2 tbs honey
1 tsp salt
2 tsp pepper
1 tbs onion powder
1 tbs garlic powder
1 tbs parsley
Instructions
In a bowl or tupperware, place ¼ of the greens.
Then top with ¼ of the following: mango, feta, grape tomatoes, chopped cucumbers.
Mix together your dressing and pour it on top if you're eating it immediately. Otherwise, place in a small container to carry with you.
Until next time! -Atim
Where I'm linked up:
Inspire Me Monday | Inspire Me Monday | Totally Terrific Tuesday | Coffee and Conversation | Inspire Me Wednesday | Wild Workout Wednesday & Fit and Fashionable Friday | Healthy Living Link Party | Think Tank Thursday | This is How We Roll