This Skillet Bunless Guacamole Burger is a quick and easy burger recipe, perfect if you're like me and still don't own a grill.
The summer makes me want to eat burgers all the time.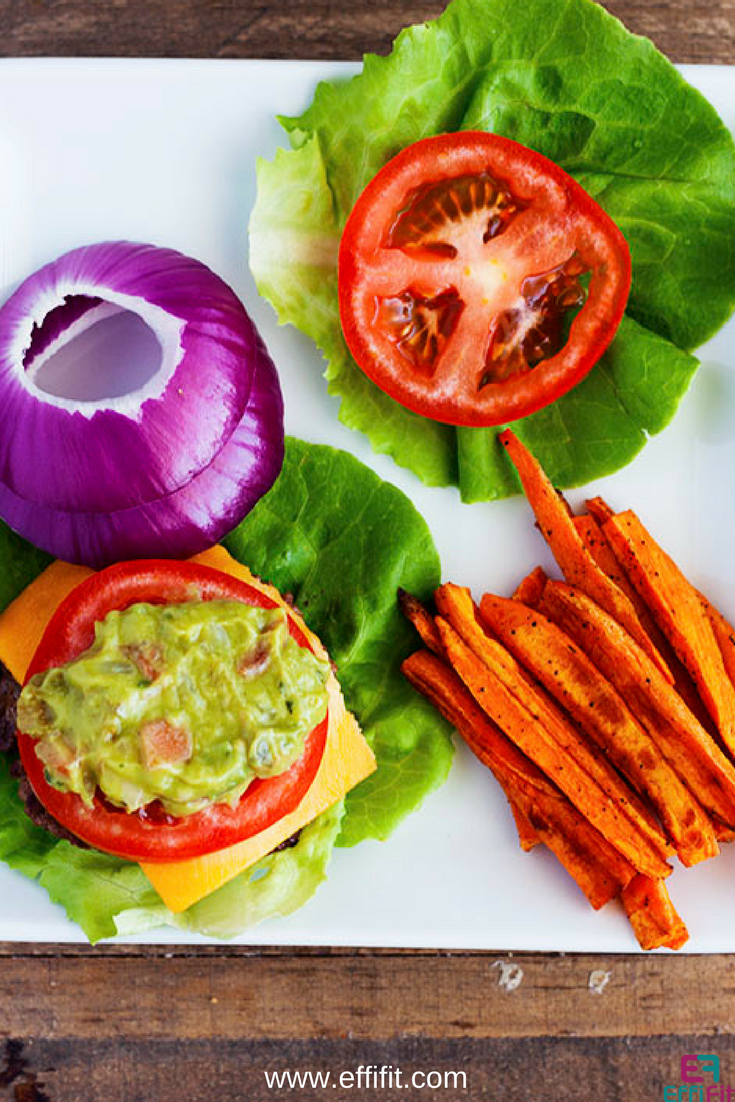 Actually, that's false, the option to eat makes me want to eat burgers all the time. I actually love a good burger and fries. That's what I'll order 90% of the time at a pub or grill. I really love burgers. And fries. Like, really really. Sometimes I want to make burgers and eat them at home, but you know, I still don't have that grill. So cooking them up on a skillet over the oven is the next best option for me.
There are so many ways to make a burger. And I think they can still fit into your FitLfe, depending on how you go about it. You can use whole wheat buns, or use lettuce for your buns like I did in this recipe. I'm always trying to increase my veggie intake. This is one way to help me do that. My rule of thumb when I'm eating is to make sure I have a serving of protein (the palm of my hand) and a serving of veggies (the size of my fist) and most of my lunches and dinners. I try my hardest to include this at breakfast, but sometimes veggies in the morning don't sound good with yogurt. I am working on a snack that is veggie filled to help boost my veggie intake some more.
The skillet bunless guacamole burger I'm sharing with you is quick, fresh, and pretty damn healthy.
Not only does it taste good, but you'll feel great after because it isn't as greasy or heavy as the fast food spots. But from time to time, you should still go to your favorite burger joint and get that deliciousness. But in the mean time, you've got options.
You get lots of goodness with this burger. A solid serving of protein, more veggies than you normally get on a burger, and some healthy fats from the guacamole. Give it a go, they'll be ready in under 30 minutes.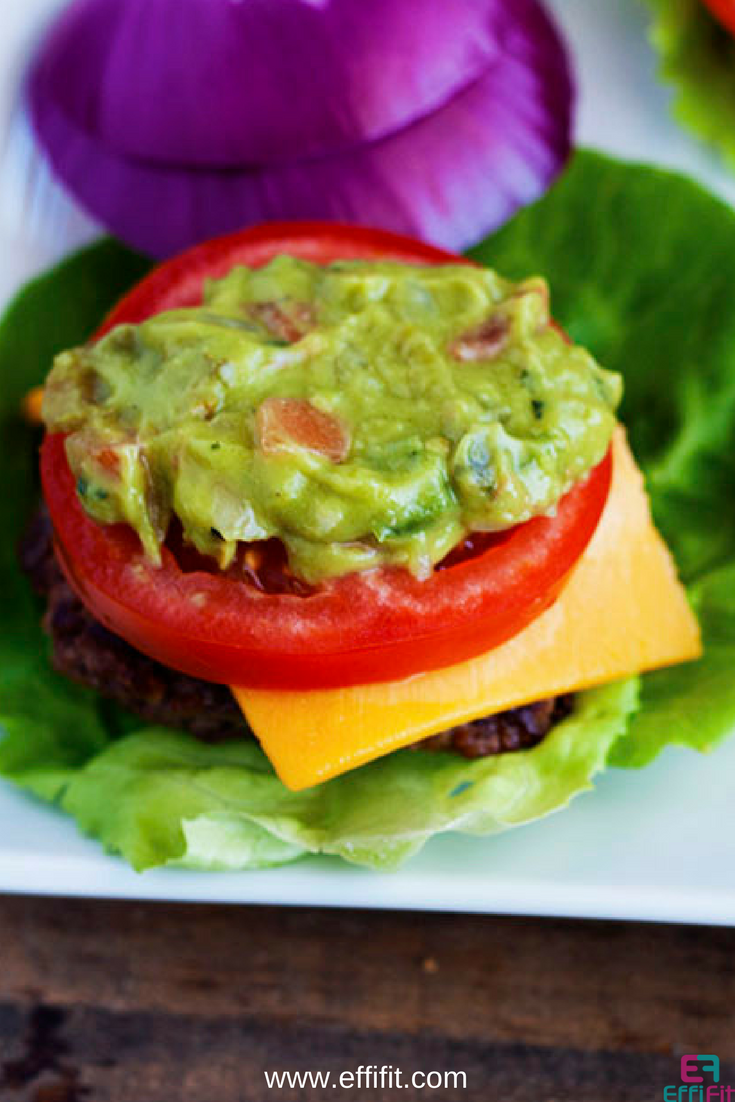 Skillet Bunless Guacamole Burger
Prep time:
Cook time:
Total time:
This quick and delicious take on traditional burgers is sure to please.
Ingredients
1 lb ground meat (I used ground beef)
1 container butter lettuce - wash and dry about 10 pieces
5 tablespoons of guacamole (but you may as well make or buy more because who only uses 5 tablespoons of guac)
1 tomato sliced
¼ red onion sliced
Optional: 5 slices of cheese (but honestly if you don't have to, would you skip the cheese?)
Seasonings: salt, black pepper, onion powder, garlic powder, and paprika (I feel you know how much you like of these so I won't limit you)
2 tablespoons olive oil (not extra virgin)
Instructions
Heat olive oil in a large skillet over medium heat.
Create 5 burger patties from the ground meat and place into the skillet.
Season and cook through. For mine, I did about 3-5 minutes per side.
When the meat is done to your liking (cook all the way through if you aren't using beef, you don't want that sickness in your life), add your "optional" cheese.
Remove from heat.
Plate:
Start with a piece of butter lettuce.
Top with your burger.
Add your onion slice.
Then add your slice of tomato.
Top with guac and then the butter lettuce bun top.
*Note: feel free to add any mustard or mayo to your burger. You know what you like.
Eat!
Where I'm linked up:
Inspire Me Monday | Inspire Me Monday | Totally Terrific Tuesday | Coffee and Conversation | Inspire Me Wednesday | Wild Workout Wednesday & Fit and Fashionable Friday | Healthy Living Link Party | Think Tank Thursday | This is How We Roll