Green Chile Zucchini Egg Muffins are a delicious and quick way to get your breakfast in when you're on the go. These egg muffins are full of protein and veggies which can really set the tone for your eating for the day.
Have you ever noticed that each summer, everyone's garden produces an overabundance of zucchini?
I have, and they sit on the breakroom table at work. So instead of passing them by, grab a couple and make yourself a nutritious breakfast. You can make lots of things with zucchini from zucchini bread to zoodles so don't worry about them going to waste.
Zucchini are very versatile. They don't really have much of a taste so you can mix them into most any food. At our house, zucchini isn't often allowed. Apparently Ryan had too many negative experiences with zucchini and squash in general. So if we do have zucchini, it's often hidden or drenched in some delicious sauce.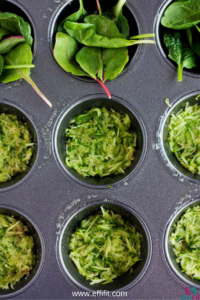 These Green Chile Zucchini Egg Muffins will help you stay full for longer right from your first meal.
These muffins are a pretty well balanced meal with lots of protein and vegetables and some fats to keep you full. Yes there's bacon in it. Yes it's fine. When losing weight and improving your health, we need fat in our meals. Too little, and you'll be looking for your next snack in a short time after eating. Because fat helps us feel and stay full, you won't eat as much of it.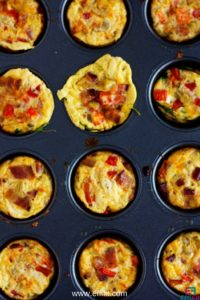 Let's break it down.
Zucchini is rich in vitamin C. They're also in season which makes them even better and filled with more nutrients. They're also very low calorie.
Tomatoes are also in season making them more flavorful and are high in lycopene as well as potassium.
Green chile is just delicious and adds a lot of flavor to a meal. You'll also find calcium, iron and magnesium in these pieces of heaven.
Eggs are a great source of protein. When possible, opt for cage free and organic. Look for eggs with omega 3s which you should get from free roaming chickens that eat grass. Your local farmer may just become your best friend. Also, eat the yoke. There's tons of nutrients in it.
Bacon is delicious! Feel free to opt for a turkey bacon.
Make these and have breakfast ready to go this week!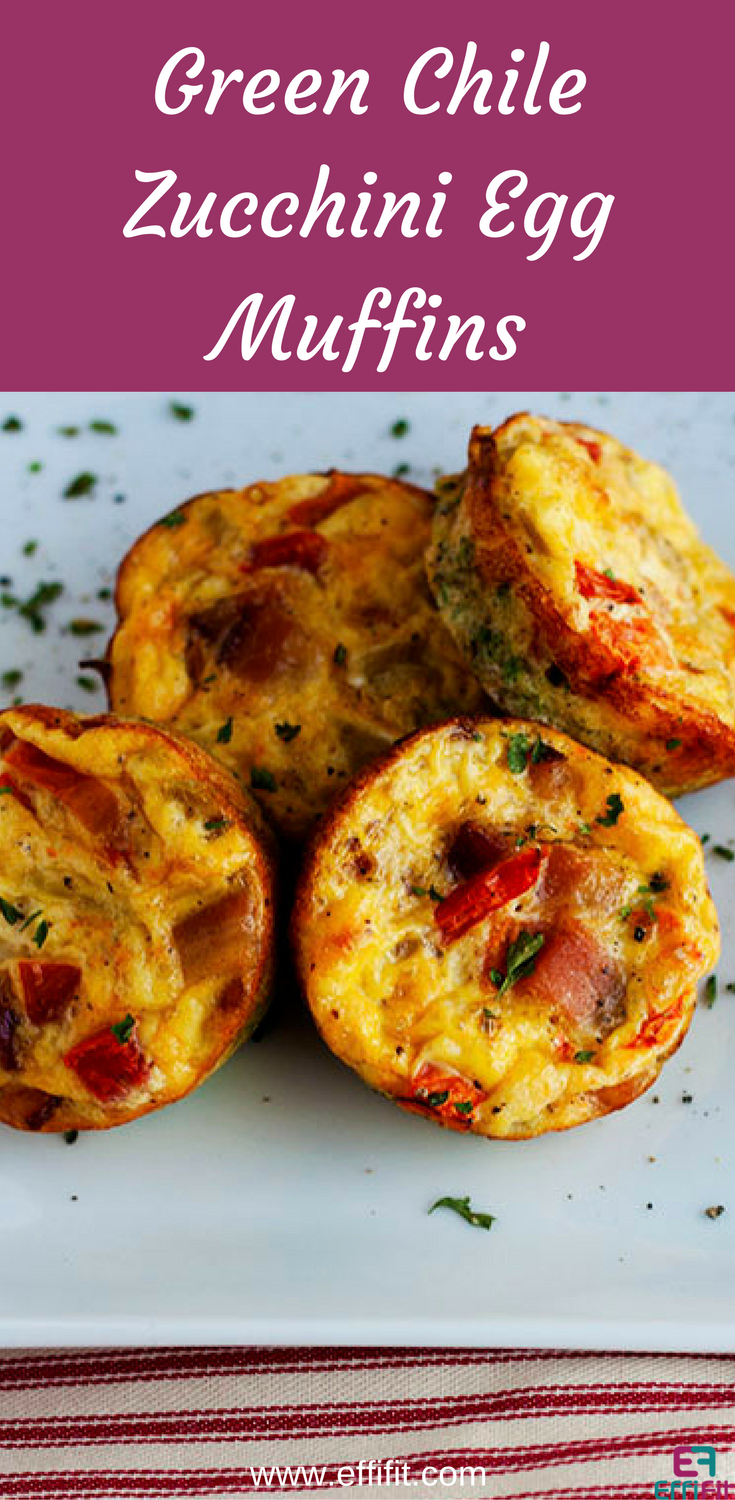 Green Chile Zucchini Egg Muffins
Prep time:
Cook time:
Total time:
Ingredients
2 medium zucchini grated
1 - 4oz can diced green chiles
2 medium tomatoes chopped
6 large eggs
4 pieces of bacon cooked and chopped
½ cup Mexican style shredded cheese
2 tbs water
1 tsp salt
1.5 tsp pepper
Instructions
Preheat your oven to 375°F.
Oil up a muffin pan and set aside.
Grate your zucchini. After it's all grated, use a couple paper towels to drain the water out.
In a medium bowl, season your zucchini with a little salt and pepper.
Add about 2 tablespoons of zucchini to the bottom of each muffin cup. Press it down so it forms a nice bottom.
Crack and beat the eggs in a medium bowl.
Add the salt, pepper, cheese, green chiles, tomatoes, and bacon. Mix together.
Pour mixture into each muffin cup. Fill them about halfway to ¾ full.
Bake in the oven for 20 minutes.
Muffins are done when the egg is done and not wiggly.
Let sit 5 minutes then eat.
Until next time! -Atim
Where I'm linked up:
Inspire Me Monday | Inspire Me Monday | Totally Terrific Tuesday | Coffee and Conversation | Inspire Me Wednesday | Wild Workout Wednesday & Fit and Fashionable Friday | Healthy Living Link Party | Think Tank Thursday | This is How We Roll