Meal Plan #13: Protein Packed Salads provides 5 salad ideas for the week. Salads are great in the summer when it's hot AF, when you need something to carry to work for lunch, and they're loaded with protein and vegetables.
Salads are your typical health food.
And there's good reason. You get a boat load of vegetables in your meal which is great for losing weight and getting fit. Vegetables help keep you regular and give you lots of antioxidants. They also help to balance the acid levels in your body. With that being said, salads can also be really boring. Especially if it's just greens and other vegetables. It's hard to eat that day after day. When I eat a salad like that, I'm hangry 10 minutes later. A salad should be hearty and keep you full.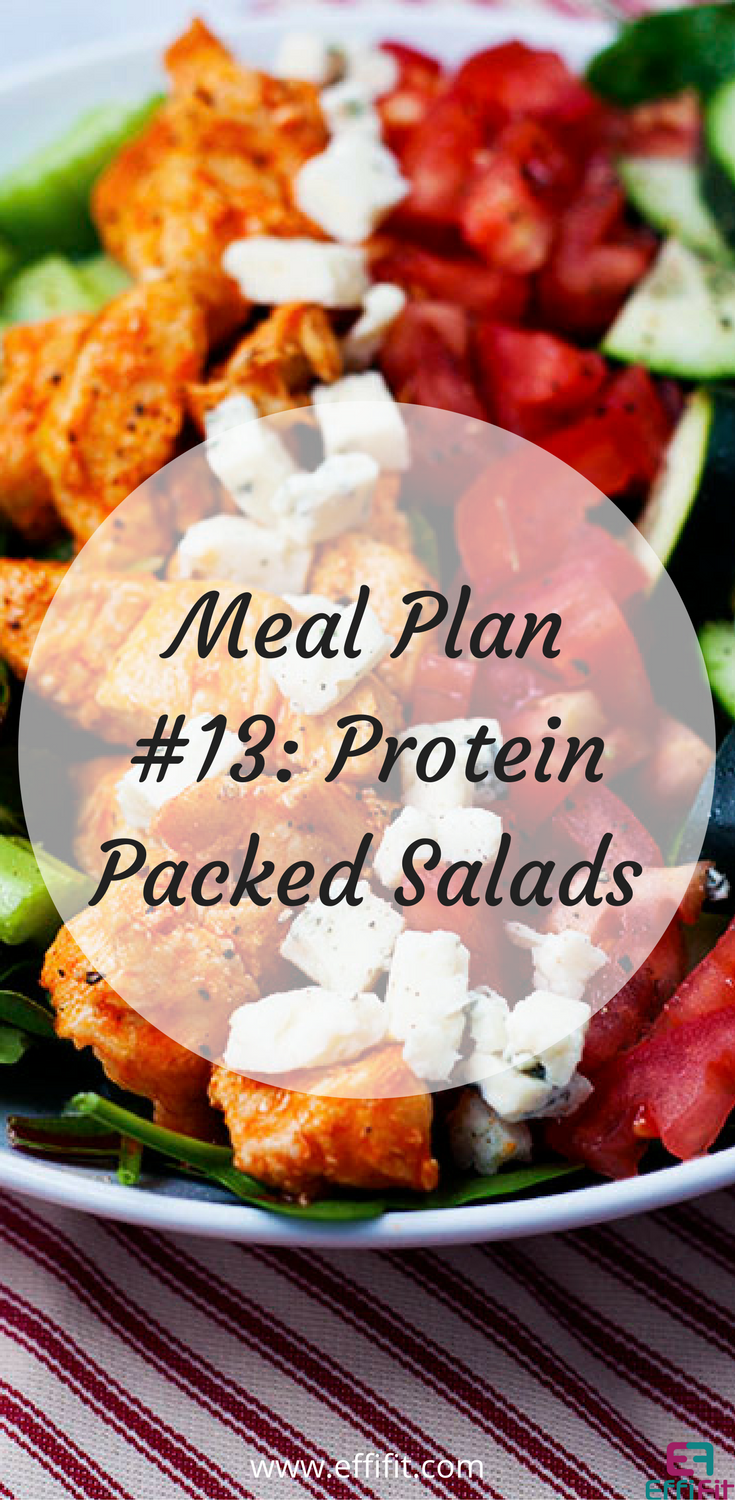 Here are 5 delicious and protein packed salads for you to try this week and throughout the summer time.
Spinach and Quinoa Salad with Apple and Pecans: looks just amazing! Because of my nut allergy, I'll have to puts seeds on there instead of the pecans. That's totally fine with me. I like when salads combine fruits and vegetables together. It makes them fun and exciting. The quinoa is great here because not only is it a smart carb, but it also has a solid amount of protein.
Strawberry Avocado Spinach Salad with Chicken: put those strawberries to use in this salad. And add the avocado for your healthy fats. This one is definitely worth a try because of all the spinach in it and chicken breast for protein. The dressing, it's unique with the tarragon. This combination overall will make your coworkers jealous and wish they had your salad for lunch.
High-Protein Edamame Mango Salad: another great protein-packed salad option. This vegetarian friendly salad works well to get in your protein if you looking to decrease how much meat you're eating in your meal plans. I don't think there's anything wrong with meat as your main protein source. But it also doesn't hurt to have variety in your eating and maybe have a couple meals in the week without meat in them. If you're sick of greens-based salads (spinach and such), this none has one but still has plenty of vegetables, protein, and healthy fats.
Buffalo Chicken Salad: is one of my favorite creations. It puts a healthier spin on the traditional buffalo chicken which is usually fried. Here, you get all the same tastes without the extra stuff. And the ranch dressing in this one is made with Greek yogurt to give you even more protein. This salad is loaded with vegetables and ready to eat in 20 minutes!
Protein Power Salad: is another protein-packed salad with loads of protein from the eggs, lentils, chicken, and cheese. Yes, cheese is also a protein source. Keeping cheese intake in moderation is great for helping you achieve your fitness goals and keeping you feeling full for longer. Cheese is also amazing, so yeah. I like the addition of the cabbage and yellow peppers to get it some unique and exciting flavors.
Which of these protein packed salads will you try this week? Let me know in the comments!
Until next time! -Atim
Where I'm linked up:
Inspire Me Monday | Inspire Me Monday | Totally Terrific Tuesday | Coffee and Conversation | Inspire Me Wednesday | Wild Workout Wednesday & Fit and Fashionable Friday | Healthy Living Link Party | Think Tank Thursday | This is How We Roll