Un-stuffed Cabbage Roll Soup is a quick, easy, and delicious take on stuffed cabbage rolls. I love stuffed cabbage but I don't love how long it takes. Here you can have the best of both worlds and leftovers to lunches this week!
*This post contains affiliate links. I earn earn a small commission from purchases through links to any products or services from this website. Your purchase helps support my work in bringing you real information about living the FitLife with a busy schedule.
Un-stuffed Cabbage Roll Soup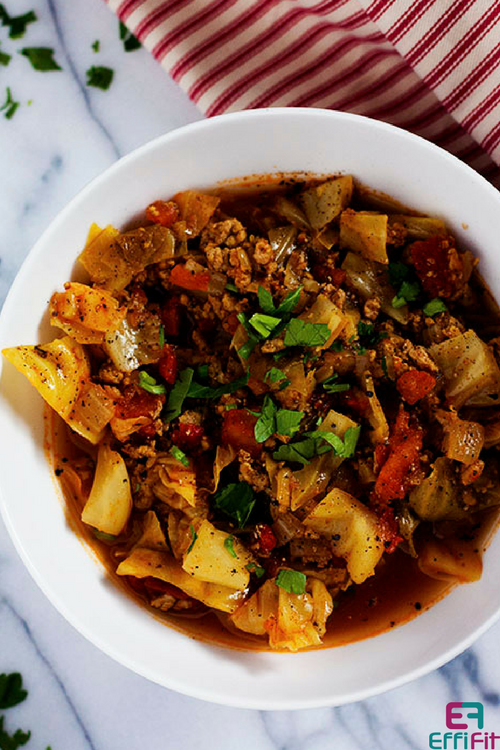 One thing I'll give winter credit for is the desire to eat hot soups. Okay, and snowboarding, I think I love it now.
We've had some really warm weather in Utah for the last couple weeks. But snow is back on the schedule, perfect timing for some soup. Soups are great too for living the FitLife (more so when we choose a broth based soup) because they're usually pretty quick to make but they also nourish our bodies. Often, we end up making a large batch which means extra meals in the week.
If you're a saurkraut fan, use the other half to make some of your own. It's actually pretty simple. Here's the recipe I followed.
This cabbage roll soup has a hearty serving of protein and veggies.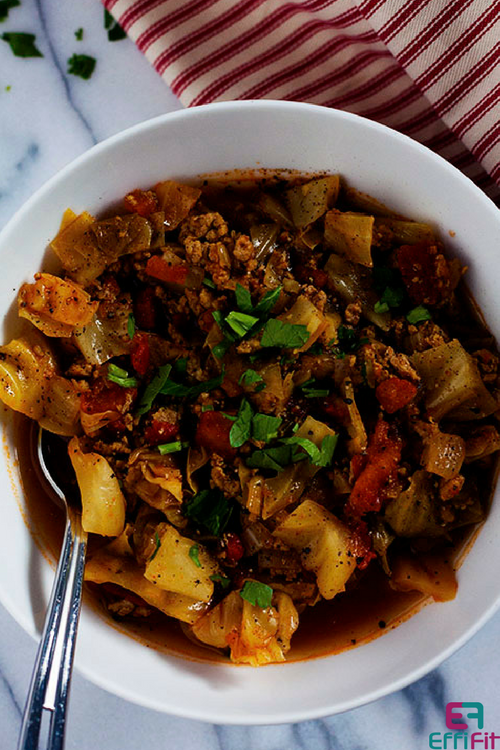 With the ground turkey, you get your lean protein. And with the cabbage, tomatoes, and onions, you get quite a bit of veggies. It's a definite win. If you're like me and don't like to cry chopping onions, try the Vidalia chopper. Not only does it make chopping veggies more efficient, but it keeps the tears at bay.
Pin this one for later, you don't want to miss out on this goodness!
Un-stuffed Cabbage Roll Soup
Prep time:
Cook time:
Total time:
Ingredients
1 lb ground turkey
½ yellow onion chopped
14.5 oz can roasted garlic and onion diced tomatoes
½ head of cabbage chopped
16 oz low sodium chicken broth
Seasonings to taste: salt, pepper, onion powder, garlic powder, paprika, cumin
Instructions
In a large pot, cook ground turkey over medium heat. I also seasoned my meat at this time.
Once ground turkey is cooked, add in the onions.
Cook for about 5 minutes until onions are translucent.
Add the diced tomatoes and stir.
Next add the cabbage and let cook until it starts wilting.
Then add the chicken broth.
Season to deliciousness.
Let simmer on low heat for about 5 minutes.
Dish up and eat up.
Pat yourself on the back for making a quick and delicious meal!
Life getting in the way of your fit goals?
Get the FREE 5 Day Guilt Free Guide to Getting Healthy. In it, I'll show you simple eating strategies and quick exercises that fit your busy schedule without feeling stressed, overwhelmed, or disappointed.
Where I'm linked up:
Inspire Me Monday | Totally Terrific Tuesday | Coffee and Conversation | Inspire Me Wednesday | Wild Workout Wednesday & Fit and Fashionable Friday | Healthy Living Link Party | Allergy Free Thursday | Think Tank Thursday | This is How We Roll
*EffiFit LLC is a participant in the Amazon Services LLC Associates Program, an affiliate advertising program designed to provide a means for sites to earn advertising fees by advertising and linking to amazon.com.