Harvest Cobb Salad with a Honey Apple Cider Vinaigrette is filled with crisp fall apples, roasted butternut squash and all the fall deliciousness in a mouth watering fall salad.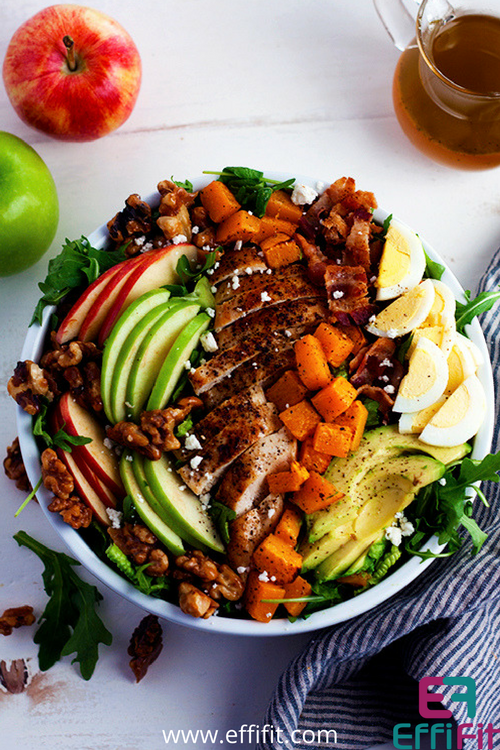 Salads are great for getting in those veggies but can get really boring quick. Luckily this one isn't and checks off your healthy fats, lean protein, smart carbs, and a little sweet treat all in one!
Harvest Cobb Salad with a Honey Apple Cider Vinaigrette
A delicious fall salad with all the goods!
Ingredients
5 cups romaine lettuce, chopped
1 cup arugula
1 boneless skinless chicken breast, cooked and chopped
5 slices of bacon, cooked and chopped
2 hard boiled eggs, peeled and sliced
2 apples, sliced (I used granny smith and honey crisp)
½ butternut squash, cubed and roasted*
1 avocado, sliced
½ cup candied walnuts
¼ cup crumbled feta cheese
Honey Apple Cider Dressing:
¾ cup olive oil
¾ cup apple cider vinegar
2 tablespoons water
¼ cup honey
1 teaspoon salt
¼ teaspoon pepper
Instructions
In a large bowl add romaine lettuce and arugula. Add chicken, bacon, eggs, apples, butternut squash, and avocado. Toss to mix the ingredients. Top with candied walnuts and feta cheese.
To make the honey apple cider dressing: In a small bowl whisk olive oil, apple cider vinegar, water, honey, salt and pepper. Drizzle over salad.
Life getting in the way of your fit goals?
Get the FREE 5 Day Guilt Free Guide to Getting Healthy. In it, I'll show you simple eating strategies and quick exercises that fit your busy schedule without feeling stressed, overwhelmed, or disappointed.