Mexican style spaghetti squash
If you haven't had oven roasted spaghetti squash before, this is a delicious and flavorful way to incorporate it into your eating plan. With all the flavors and spice, this one is a hit!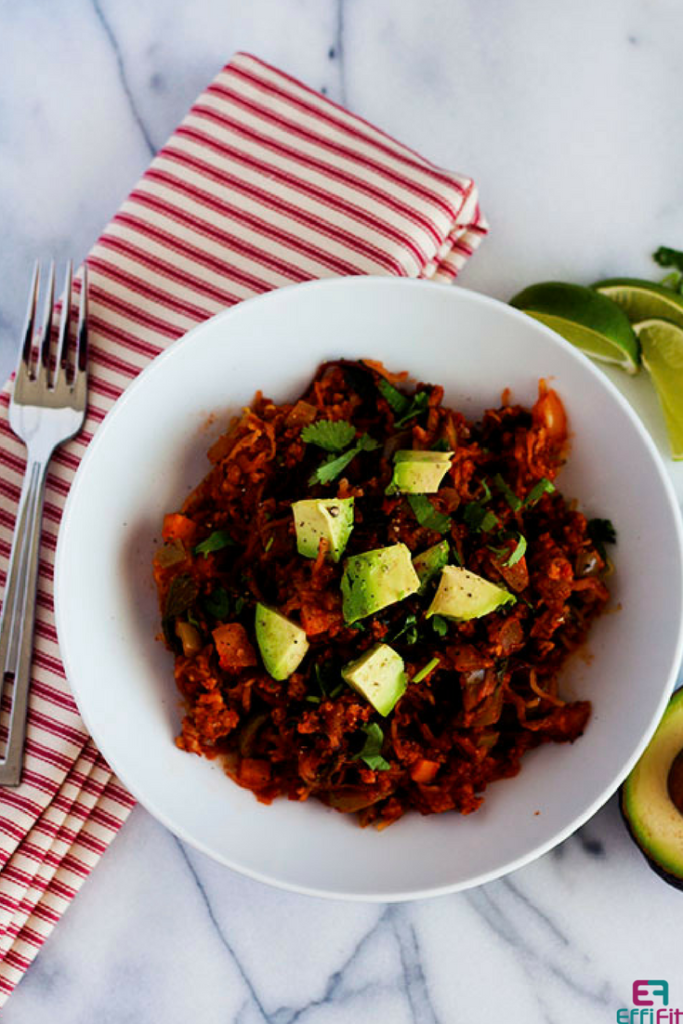 I went through a phase a couple years ago when we ate spaghetti squash every week. It was like my love for one pan dinners and stir fry meals. Ryan finally begged me to put the squash on the shelf for awhile because he had enough. This was the same time I was being paleo and following the autoimmune protocol. With all the exercise and Crossfit, I needed some serious carbs. Squash was allowed, at least I believe it was. Too many rules, so much so that I binge ate everything I couldn't have during the autoimmune protocol. I'll never know what foods don't suite me well. All that suffering and deprivation for nothing.
Anyway, I got completely off topic. Back to the recipe. This one has so much flavor and is a great one for meal prep and lunches for the week. It's like chili and gets better the longer it sits.
Southwest spaghetti squash
Mexican Style Spaghetti Squash
Prep time:
Cook time:
Total time:
Mexican style spaghetti squash is a delicious and flavorful way to incorporate spaghetti squash into your eating plan. With all the flavors and spice, this one is a hit!
Ingredients
1 cooked spaghetti squash
1 lb lean ground turkey
2 bell peppers chopped
1 avocado chopped
1 can (14.5 oz) diced tomatoes with green chilies
1 can (4 oz) diced green chilies
1 can (15 oz) tomato sauce
1 tablespoon olive oil (not extra virgin)
4 cups power greens (or spinach)
1-2 teaspoons (pretty much season to taste) of the following: salt, black pepper, onion powder, garlic powder, oregano, paprika, chili powder, and cayenne pepper (if you like spice)
Instructions
Heat olive oil in a large pan over medium heat.
Season and cook the ground turkey. Once cooked, drain most of the fat. But leave some for cooking the veggies.
Add the bell peppers and cook until soft.
Then add the canned goods and power greens. Mix all together.
Add more seasonings to taste.
Then mix the cooked spaghetti squash in.
Top it with avocado.
Serve it up!
Until next time! -Atim
Where I'm linked up:
 Totally Terrific Tuesday | Wild Workout Wednesday & Fit and Fashionable Friday | Healthy Living Link Party | This is How We Roll