Chicken Taco Salad with Cilantro Ranch Dressing is a quick, healthy, and flavorful salad you can have for lunch and is filling enough for dinner.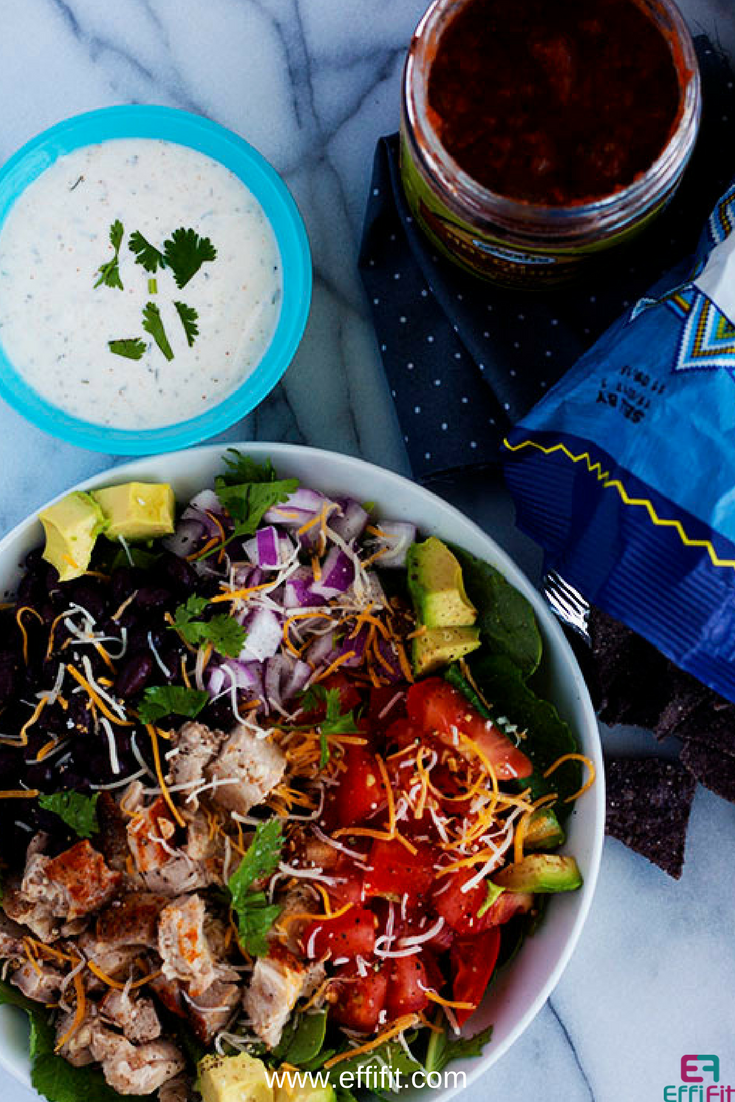 Salads can be a great way to get your veggies in.
They can also be super boring when it's just lettuce. I'm a seasonal salad eater and pretty much only eat salad when it's hot out. I don't want to be sweating in the kitchen while making my meal or sweating while I'm eating. I try and reserve boob juice for physical activity lol. Or sitting in the backyard when it's over 100 degrees outside sipping on a margarita or Moscow mule.
This Chicken Taco Salad with Cilantro Ranch Dressing has so much goodness, and you can add more veggies to it if you please. Being another Ryan approved recipe, I feel confident you're also going to love it. I mean look at it: chicken, beans, avocado, tomatoes, CHEESE! You can never go wrong with cheese. Plus the ranch dressing is made from Greek Yogurt, so you can eat it by the spoonful if you please.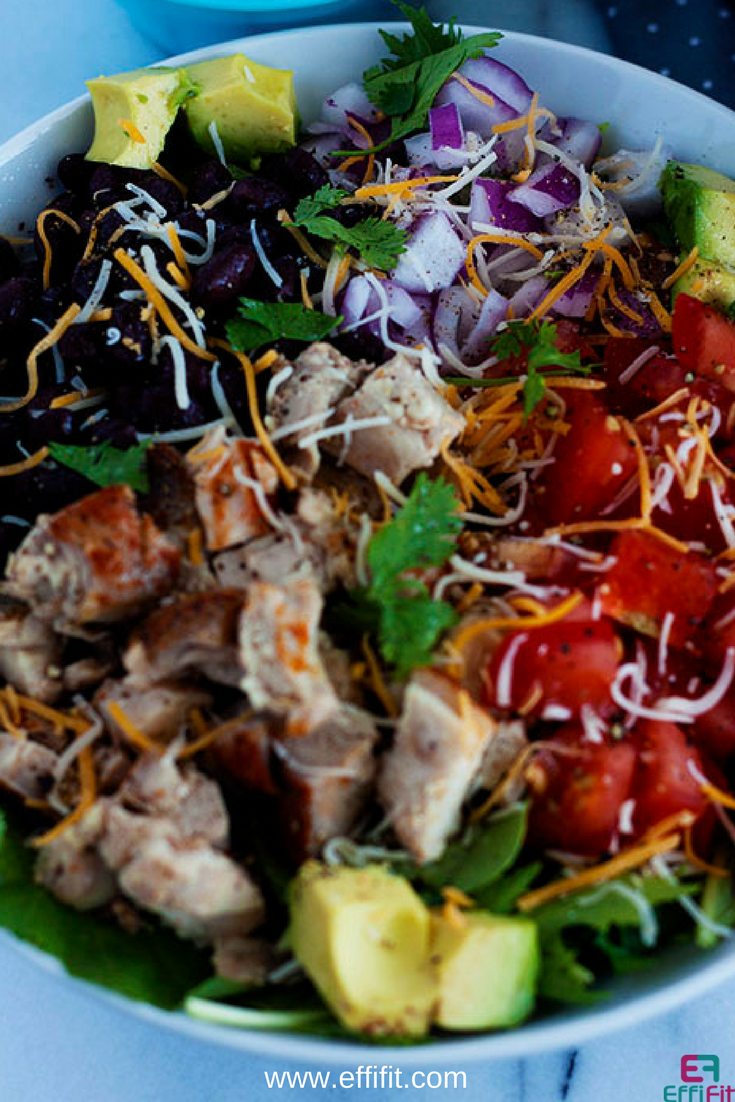 Chicken Taco Salad with Cilantro Ranch Dressing
Chicken Taco Salad with Cilantro Ranch Dressing
Prep time:
Cook time:
Total time:
Ingredients
2 lb chicken cubed
1 can low sodium black beans rinsed
3 tomatoes chopped
1 avocado chopped
½ red onion chopped
1 cup shredded cheese
1 lb greens (I did power greens, but you can do spinach or kale, just make them dark)
Cilantro Ranch Dressing:
½ cup Greek yogurt
¼ cup milk
1 tsp dried dill
1 tbs dried parsley
1 tbs dried cilantro
½ tbs taco seasoning or chili powder
Instructions
Cook your chicken up how you like. Probably the quickest is on the stove. You can also bake it one pan dinner style, and then only have focus on making the rest of the meal instead of juggling cooking chicken too.
Make your ranch dressing.
Create your salad from heaven:
Start with a base of 2 solid handfuls of greens.
Put ¼ of the chicken, beans, tomatoes, onions and avocado on top of the bed of greens.
Top that baby with cheese!
Dress it with ranch.
Show you coworkers your piece of art; make them jealous.
Eat!
Make sure to pin this one for later. But pin it on the board of recipes you actually try, not recipe abyss board where you'll never find it again.
Where I'm linked up:
Inspire Me Monday | Inspire Me Monday | Totally Terrific Tuesday | Coffee and Conversation | Inspire Me Wednesday | Wild Workout Wednesday & Fit and Fashionable Friday | Healthy Living Link Party | Allergy Free Thursday | Think Tank Thursday | This is How We Roll