Living the fit life with a chaotic schedule can be, well chaotic at times.
And in these modern times as a modern career woman available essentially 24/7, you probably think you've got no options.  Lucky for you, I understand your struggle and have put together workouts that fit your schedule. Perfect for when you're short on time, have a lunch meeting, or have to work late at night.
You can do whatever you believe is possible, always remember that. You can achieve your goals and then some.
Remember life before you started your career?
You were taking care of yourself and you felt great. Okay. back track. Remember life before grad school. Yeah, grad school created some habits I'd like to not have either (like chasing down free food as if my life depended on it – oh wait, that started in undergrad, and visiting the candy bowl on the reg). But still, you took care of yourself, working out multiple times a week, getting your smoothie with a boost of wheatgrass and protein powder. You prepped your meals for the week and even slept 8 hours a night. It was AMAZING!
Then you worked hard to start growing your career with big goals to be boss one day, because you want to make a difference in the world. And who doesn't want to be in control and boss others around. Be honest with yourself. Maybe even just a tiny bit. I thought so. 🙂
Ready to get back to the fit life, even with your busy schedule?
Girl, you know I got you. Get an exercise band if you have one. But this can totally be done without. I would say you can do this one in the office, but you must trust that your carpets are cleaned regularly. Remember to take the heels off first.
Bands a Make her Fit!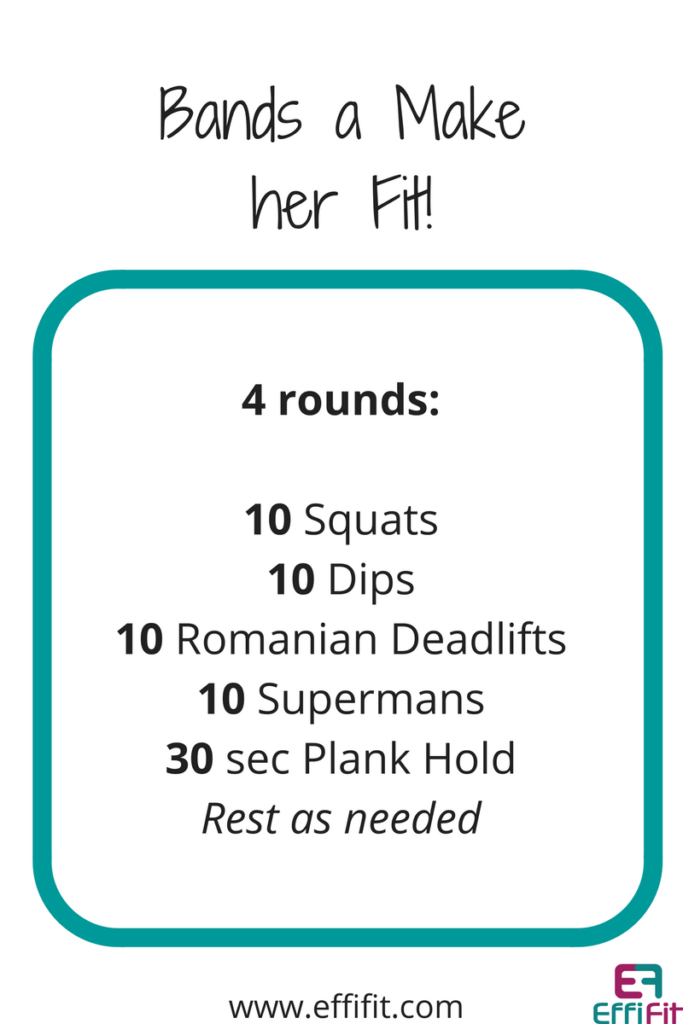 And you can catch me doing the first round and see how all the movements go!
Now, get to it, and let me know how it went in the comments!
Life getting in the way of your fit goals?
Get the FREE 5 Day Guilt Free Guide to Getting Healthy. In it, I'll show you simple eating strategies and quick exercises that fit your busy schedule without feeling stressed, overwhelmed, or disappointed.