Quick and Healthy Blueberry Yogurt cuts down on the amount of sugar found in traditional yogurts. It's quick, easy, and delicious.
*This post contains affiliate links. I earn a small commission from purchases through links to any products or services from this website. Your purchase helps support my work in bringing you real information about living the FitLife with a busy schedule.
I love a good blueberry yogurt.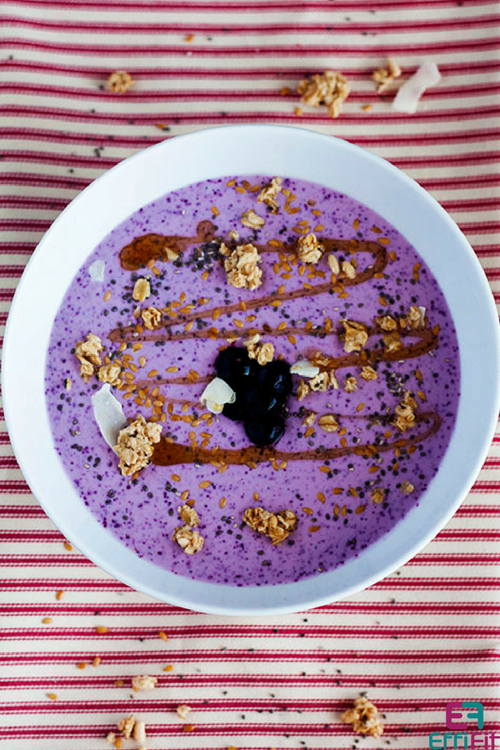 In fact, it's right up there with peach yogurt (which you could easily make using this recipe too). I used to get down with all the individual pack yogurts. They are quick to grab on the way out the door to work. I was always told that yogurt was healthy and great for me. But I never looked at the sugar content on the back. Looking at the back of those single serves, I kept seeing 17 grams of sugar and all the way up into the mid 20s. That's a lot of sugar, especially when most of these yogurt cups are between 150 and 170 calories. Figuring the number of  calories you're getting from sugar (4 calories per gram, 4*17=68 calories), you're looking at about 45% of the calories coming from sugar.
While I like sweet things, I don't like when they sneak into foods that are supposed to nourish and help us reach out FitLife goals. So I switched over to plain Greek yogurt and some honey and fruit. I like this option because I feel I have more control over the amount of sugar I'm adding to my yogurt. As I've gotten a bit used to the taste of plain Greek yogurt, I'm slowly cutting back on the amount of honey.
Now for the blueberry yogurt recipe.
It's so simple, you're going to think I'm crazy for making a whole post out of it, but I love it. And it's super quick, great for a breakfast or snack.
Quick and Healthy Blueberry Yogurt
Prep time:
Cook time:
Total time:
Quick and Healthy Blueberry Yogurt cuts down on the amount of sugar found in traditional yogurts. It's quick, easy, and delicious.
Ingredients
2 cups plain Greek yogurt (I used and really like Chobani, I also like Fage).
1 cup fresh or frozen blueberries (I used frozen here)
¼ cup honey (get the raw stuff if you can)
Optional toppings:
½ tsp flax seed
½ tsp chai seeds
¼ cup granola
Instructions
In a blender, combine yogurt and frozen blueberries.
Blend until mixed.
Literally that's it, so simple!
Get the Ninja Blender I love and trust:

Life getting in the way of your fit goals?
Get the FREE 5 Day Guilt Free Guide to Getting Healthy. In it, I'll show you simple eating strategies and quick exercises that fit your busy schedule without feeling stressed, overwhelmed, or disappointed.
Where I'm linked up:
Inspire Me Monday | Totally Terrific Tuesday | Coffee and Conversation | Inspire Me Wednesday | Wild Workout Wednesday & Fit and Fashionable Friday | Healthy Living Link Party | Allergy Free Thursday | Think Tank Thursday | This is How We Roll
*EffiFit LLC is a participant in the Amazon Services LLC Associates Program, an affiliate advertising program designed to provide a means for sites to earn advertising fees by advertising and linking to amazon.com.