Goal setting for success
We set goals all the time in life.
*Get to bed by 11pm.
*Finish that big project at work before leaving for vacation.
*Get fit again.
Setting goals in everyday life seems beneficial, but is that the same when it comes to your health and fitness?
Hell yes! You need to know what you've working for and what you're planning to achieve. Without goals, it's easy to give up at the first sight of something going wrong.
SMART Goals.
I'm sure you've heard it before, either at the office during your yearly eval or if you're read a fitness blog or worked with a personal trainer in the past. When you set your goals, set SMART goals!
What does that really mean?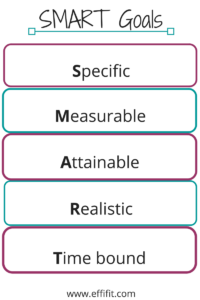 You want to set goals that you know your behaviors and actions are going to support. Simply saying you want to double your income isn't enough. While it is specific and measurable, you still need to know by when and how you're going to get there. So let's say you want to double your income in 7 years. Much better. It'll be a challenge but is achievable and now you know by when.
Take another example with your health and fitness. Let's say, in the past, you were pretty fit. You felt good in your body and good in general because you were taking care of yourself and your body, and it was returning the favor in amazing ways. But then you started your career, and it became first priority. Your health and fitness went by the way side, and it was all work all day with little sleep and time for fitness. Plus many happy hours to cope with the long hours at work.
But now you're ready to get fit again. But this time without the crazy crash diets or promises of losing 30 lbs in 2 months because you've tried those before. They've resulted in you isolating yourself from everyone, counting down the days until it was over only to put the weight back on later because the plan was too drastic and didn't fit your busy lifestyle.
This time you want to do it in a way that works for you. So you're setting a goal that fits your life but also gets you to where you want to be physically and mentally. And because you're already pretty good at setting goals, here's what you came up with.
Lose 7% body fat in 12 months.
BOOM, that's a solid goal if you ask me. Specific, measurable, attainable, realistic (because you know you're schedule is busy; you can't devote all your time to this), and time bound. Now the next step is to come up with the behaviors and actions you'll need to take to achieve that goal. Just focusing on the goal itself isn't going to get you there without the action steps. Essentially you'll need some behavior goals or action steps to focus on to get you to your end goal.
Focus on the behaviors
The actions and behaviors are what you're doing daily to get to your goal. You can keep that big goal in the back of your head, but we want to really focus on the actions and behaviors from now on that are going to get your there.
Just with the double your income goal, you'll want to take certain actions and behaviors consistently that lead to the goal. Those could be: asking for a raise, taking more leadership opportunities within your team; continuing education courses or night classes, and continuing to tell your boss about your achievements so when it comes time to ask for that raise, you've got a long list of reasons to pull from.
And with your lose 7% body fat goal: you'll want to focus your behaviors on moving your body often throughout the day, eating your protein and veggies with most meals, and getting 7-8 hours of sleep consistently. The plan for either of these goals is to take action consistently and not perfectly. Not only is that more achievable, but you're also less likely to quit the first time you make a mistake at work or when you miss a workout.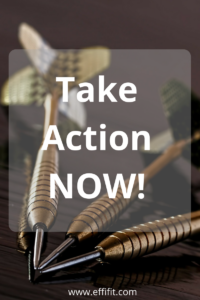 To wrap up, remember your big goals, but focus on doing the actions and behaviors to get you there, consistently.